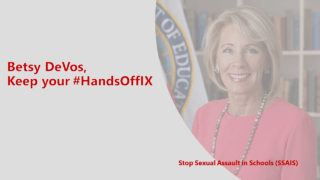 The Department of Education has proposed regressive changes to Title IX that impact both college and K-12 students.
Tell the Department your concerns and objections to these new regulations before January 29, 2019.
What the new regulations would do for K-12 
If approved, the new regulations would:
Narrow the definition of sexual harassment so that students might have to endure escalating incidents of harassment before the school will respond.
Permit schools to ignore cyber sexual harassment or sexual harassment that occurs off-campus.
Allow schools to delay their Title IX investigations indefinitely.
Place more obstacles in the path of student survivors who want their schools to protect their rights to an education free from sexual harassment.
Allow a school to ignore a complaint of sexual harassment unless a someone notifies a school official who is authorized to take "corrective measures."
Require student survivors of ongoing sexual harassment or sexual assault to make a formal complaint before the school could take Title IX action and offer supportive measures.
Steps you can take
Read why the proposed regulations are harmful to K-12 students:
What K-12 parents in Seattle need to know about proposed changes to Title IX rules on sexual assault, harassment
The Proposed Title IX Rules Make No Practical, Moral, or Legal Sense
What should everyone know about Title IX regulations as they pertain to girls' rights in schools?
Watch these students urge action:
Submit a comment on the proposed rules:
Title IX Notice and Comment: A quick guide to what you need to know (Oregon Sexual Assault Task Force)
Steps to submit a comment here (National Women's Law Center) or here (Know Your IX)
Sample comment (National Women's Law Center)
Write a postcard project (Enough is Enough); example postcard scripts available here