See also:  Get Help   Sexual Harassment Defined   Know Your Rights   Filing Complaints   Activism Toolkit
Do you have a concern that a student has been sexually harassed, assaulted, or experienced discrimination on the basis of gender or sexual orientation? Do not minimize the harassment, assault, and/or discrimination even when a school does.
Remember that under Title IX and other state and local laws, students are protected from cyber sexual harassment (where no touching has occurred).
Teachers and school staff have an important role in protecting students—as young as kindergarteners—from sexual harassment in the classroom. Share this fact sheet with teachers in your schools (color or black & white).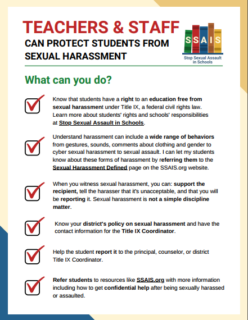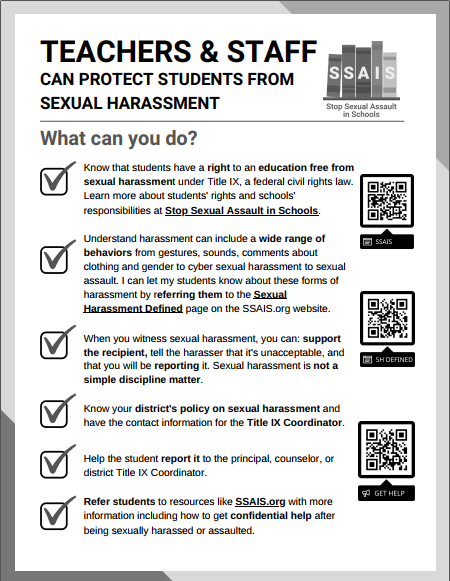 Get started addressing your problem with these simple steps:
Read definitions of sexual harassment and assault here. Remember that many schools normalize sexual harassment when it is actually harming students. If you have questions about actions between a teacher and student or between/among students, call the resources listed here and/or your local sexual assault crisis center.
Visit the SSAIS Know Your Rights webpage.
Use this fact sheet to be well informed about the school's obligations. Most schools don't understand Title IX or how to apply it in simple or complex situations. Show the fact sheet to your school.
Read Susan Moen's blogpost on steps parents can take to make their schools Title IX compliant: Parents: You Can Become the Agent of Change for Title IX Policies in Your Schools.
Read Bill Howe's blog How to File a Title IX Complaint in K-12 Schools.
Read Katherine Leehane's blog Exposing a Sexual Abuse Scandal at a Private School.
Use this fact sheet from Equal Rights Advocates to assert your rights.
Use these fact sheets, depending on your needs–whether general or specific (e.g. cyber sexual harassment, LBGTQ, etc.)
Write to your school documenting your report. Follow up any conversations with an email or letter stating what was said. Restate your position in the conversation so that there is a clear record of your expectations and the school's response (or non-response). Keep a copy of all correspondence. Continue writing to the school even if the school ignores you. You must establish that the school was indifferent to your complaints or responded inappropriately.
Seek help from victims' advocates and organizations listed here.
Use these downloadable forms to discover information about your school district.
Public school districts and elementary and secondary schools must submit data (including the number of reported incidents of sexual harassment and sexual violence) to the biennial Civil Rights Data Collection (CRDC) maintained by the Office for Civil Rights. This report by the U.S. Department of Education draws on data from the 2017-2018 Civil Rights Data Collection.
Learn about the role of the Title IX Coordinator and advocate for the coordinator to implement the required actions.
File a complaint if warranted.
Contact SSAIS for additional suggestions/resources.
Explore our activism toolkit to learn about other ways to create a safe and equal learning environment.